Beach Photography
---
"A Family Memory On The World's Most Beautiful Beach That Will Become Your Most Prized Possession."
"People Are Coming From All Over The Country To Take Advantage Of This Once-In-A-Lifetime Chance!"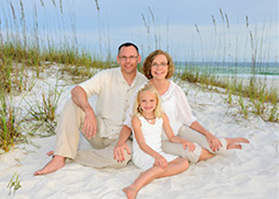 "WOW! Our portraits are absolutely GORGEOUS!!! I am so glad that you were able to capture those special moments for us. Depending on the lighting and time of day different colors just pop out of that portrait.
Kudos for a job WELL DONE!!!"
-Kerri & Tom Blythe, Salem IL
Dear Friend,
Your family is changing so fast, isn't it? Your children (and yes, they
will be your "children" even when they're married and have kids of their own) are growing up, and becoming more like adults every day. Don't you wish you could just "freeze time" and hold these special moments forever?
My name is Tim Allen, and capturing wonderful family memories is what I've devoted my life to. I'm a professional family photographer, but more than that, I'm just like you… I'm a family person.
We Can Stop The Clock. Memories Are The Most Valuable Thing We Own.
Can you relate to this at all? I wake up every morning and wonder where the time is going. Do you ever do that? Have you noticed that, the older you and your children get, the faster time seems to fly? I feel so very lucky – I spend my life capturing memories – FREEZING TIME – and that is a real gift for me. I can't imagine anything in the world I would rather be doing.
What Wouldn't We Give To Be Able To Hold On To Our Most Cherished Memories FOREVER?
That's one of the reasons I became a professional photographer – I want to help other families hold on to their family memories forever, and never regret not having a family portrait done. So many families put off having a family portrait created, saying "I'll have lots of time," but time just keeps ticking away.
We need to capture THIS TIME, now, and never let it become a distant memory.
Throughout This Page You'll See And Hear From Families In Florida Who Have Had Their Lives Forever Enriched By the Lasting Memories Of Family Portraits —
— But There Were Things Even They Didn't Know When They Started Looking For A Photographer…
If you're at all like most of the families on this website, you probably haven't given a lot of thought to having a family portrait created. Don't worry – that's pretty normal. You've got a lot of things going on in your life. Life is busier and crazier than ever these days, and family life in particular seems to be happening at an ever-accelerating pace.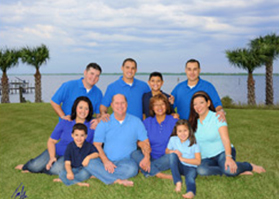 Tim and Luda are exceptional people and his work as a photographer is superior and along with his humor helped us to make a "once in a lifetime" family portrait. We would highly recommend him to anyone. Once again, thank you for a superb experience and gorgeous portrait.
I will say again, the portraits are amazing, and I still have tears. Thank you, thank you, thank you Tim!!
-Wilhelmina Cochrane, Panama City Beach, FL
Most people, when traveling somewhere on vacation, never think of something like this. You're going to be here – in Florida – on vacation, having a wonderful family time with you and your loved ones, so why not have a PROFESSIONAL family portrait created while you're here? Can you think of a more happy, fun, and relaxed time for your family? Isn't that how you really want to have your family captured in a masterful portrayal you will always love?
There are SO many reasons to seriously think about this. First of all, as I already mentioned (and as the clients whose photographs are displayed on this webpage also refer to), these photographs will become priceless mementos of your family's love.
Secondly, where else could you have a portrait like this created? WARNING: There's a real ART & SCIENCE to creating fantastic family portraits on the beach! I've spent years perfecting this type of photography, and you want to be sure you have a specialist create these images for you. And, as you can see, not only do I have a lot of experience creating these sorts of images, but I LOVE creating them! It's truly my passion…
Thirdly, you know it's hard to get your family all together sometimes. Well, while you are in Florida on vacation, you'll all be together! Now is the time! Your family is changing almost daily, aren't they? One day you will awake and your kids will be all grown up and heading off to college and you will wonder where the time went so quickly…
Six Reasons To Have Me Create A Fine BEACH Family Portrait For You And Your Family:
1. Most photographers cram in as many sessions as they can, shooting with the wrong light at the wrong time of day. Unlike other photographers, we do only one session a day taking the time to get wonderful portraits on the beach with that magical afternoon sunlight all the way through the sunset. Having lots of time allows for a relaxed and fun setting where we can create the family portrait as well as various groupings and some spontaneous candids. We are not a "COOKIE CUTTER" type of studio. The time is yours and we will create what you want.
2. I pride myself in having the ability to capture relationships on film, and this is due to my sincere love of families and kids and pets (they are part of the family too). As you look through more of this website, you'll see exactly what I mean.
3. Technically, the beach with white sand is extremely difficult to properly light, even for experienced photographers. I have often had families come to me after first having brought down their own family photographer from places such as Atlanta only to be disappointed in the results of their photographer often due to lighting and dealing with kids on beach. I specialize in the beach, and I love it with over 30 years of experience here.
4. I know the beach EXTREMELY WELL. In fact, I was actually able to produce a beautiful portrait of a family only a few days after a major hurricane. You would never know the beach was torn up as I found the right spot – AND THE RIGHT LIGHTING. It's truly an art-form, and this should not be trusted to just anyone.
5. ADDITIONAL ENHANCEMENTS – We have an incredible artist, one of the finest in the world, who knows the beach and colors so well that we can bring out every beautiful aspect of the beach and eliminate the distractions. Our clients cannot believe the difference in the first image they see compared to the final with artwork rivaling a masters painting. IN FACT, we have literally had clients so excited when they saw the final that they jumped up and down for joy! No kidding!
6. NO EXTRA CHARGE!!! – I will NEVER charge you more to have your photograph created on the beach. In fact, I don't charge a single cent more to have photographs created on location – they are the same
price as portraits created in the studio.
Here's What To Do Right Now:
Here's what I strongly recommend you do IMMEDIATELY! Our dates are booking fast as we do work with just one family a day! Pick up the phone and call me right now, so we can chat a little about your family, and what you're looking for in a beach photograph. There's NO COST, and absolutely NO OBLIGATION for that chat.
Or, if you'd rather, simply send me an EMAIL, and I'll get back to you right away. However, the best option is to chat on the phone, as that's when you'll really get to know me, and you can ask any questions that might come up during the conversation.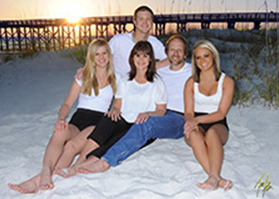 "The portraits are absolutely wonderful!! We can't thank you and your wife enough. The family photo will be such an asset to the house. It was a great pleasure working with you and your wife. Thanks again!!!
Tim was the best photographer who was so accommodating and so willing to work with you in every way possible. If you want the best call Tim Allen Photography!!!!"
-Judy & Dave Osby, Valearaiso, IN
SIMPLY CLICK HERE for the phone number or email address to my studio.
If You'd Like To Know More About What A Family Portrait Will Be Like For You – I Have More Information For You:
I have another page in this website dedicated to the magic of Family Portraiture – you may want to take a look at that. Simply CLICK HERE, and I'll tell you all about it.
Don't wait to act on this. Time is moving much faster than you think. Be sure to take hold of the moments that matter the most, and allow me to create a portrait of your family you'll never forget.
CLICK HERE to call me right this second!!
Sincerely,
Tim Allen
PS. STILL NOT READY TO CALL? That's okay. I can still give you some more secrets FOR FREE in the mail. If you'd like more information about family photography rushed to your mailbox, simply CLICK HERE to have more secrets rushed to you.