I wonder if any of this will sound familiar to you…
Do you ever wake up and just wonder where has the time gone? Does it seem the older your family gets that the faster it goes? I am truly blessed to always be capturing memories. As a photographer, I have the opportunity to FREEZE time. What a JOY it is! There is really nothing I would want to do more in life than this.
Memories are precious and that is all we have left as the days go by. Wouldn't you love it if I had a time machine and could send you back to a certain moment in your child's life. What if you could relive the joy you shared as a family on your child's first birthday, or your first visit to the beach? Wouldn't that be incredible? I guess most folks would pay just about anything if they could really do that!
I CAN do the next best thing (since nobody can time travel)! I will create for you a memory that you will Cherish FOREVER! This is a big reason why I do what I do today. I don't want you to ever regret not having a portrait created of your family. You know, we all think, "I'll get around to it one day", but sometimes that day never comes as I know all too well in the early loss of my own brother. We must not ever let "NOW" become a distant memory that just fades away. While yesterday is gone, we do have TODAY – can you think of a better time?
As A Parent, You Know Nothing Can Match What You Do. You Live For Your Child, Don't You? The Smiles, The Faces, The Moves – Some Of The Most Beautiful Things You Will Ever See…
A Portrait that captures the essence of your child is really NOT something easily made. In fact, truly capturing the personality of your child is so rare that it is indeed priceless.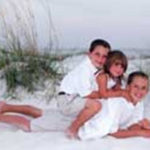 "I am so thankful that Tim could create our family portrait during our vacation. We all enjoyed the time on the beach. The kids were excited and had fun thanks to Tim. I couldn't be more thrilled with our portraits."
–Michele Magill, Hiram, GA
I think we have all known the photographer who tells the child to say "cheese!" – and we all know the fake results. Doesn't that in reality become just a snapshot like anyone with a cell phone camera can make? Is that what you should expect from a PROFESSIONAL?
I really enjoy children and I find them to be much smarter than we think most of the time. They tend to know who they can trust and those real natural expressions never come to someone unless they trust him. That is why I try to relate and to be their FRIEND. Those expressions are priceless, and I will do whatever it takes to bring them out. REALLY! Our photography is always fun and sometimes a little crazy and the kids just love it. Understanding your kids and coming to their level is a joy and our results will show it.
Just put yourself in your child's place and imagine how scary most photographers truly are! A stranger comes along barking orders at them in a strange place – this stranger has little patience and little time because their next child is waiting in the background! Do you think your child can sense the stress? No wonder the word "cheese" comes out with most photographers – it's their last resort! NOW, ask yourself – IS that what you really want? Remember, your child will only be once what he or she is today, so to me, that is simply NOT good enough. You work hard as a parent and you deserve the best – a perfect portrait – forever capturing this beautiful and intimate moment in their lives.
When you find a photographer who can truly do this, you will have found a friend you will value as your family grows and changes through time. This is a person who will truly FREEZE TIME and bring you images that are indeed priceless as they allow you to relive forever those precious moments in time. It takes far more than an understanding of photography and the latest camera – it is FAR more about personality.
There is not a thing on earth more precious than those memories of your family, and I must say that other than your family members there is nobody who truly knows how precious your child is to you more than I do. Again, this is why I do what I do as a photographer.
What would it be worth to you if a person actually created this masterpiece of your child? I mean one that touched your heart nearly taking away your breath because it captured unspeakable joy – perfection – your child as you know them in your heart?
I believe there is no price that can be placed upon such an image. Do you believe that ?
Allow me to show you…
…Let's say that one day you became very sick with a rare and dangerous disease. You did some research on the internet and found that there are many many physicians who say they can treat you. Why, they even showed you some very nice pictures and they were real cheap making a big deal about how much money they will save you. But then you found one physician who seemed to speak your language. He did not talk much about price, but he did have real proven expertise, experience and results. Who would you choose? Your family memories are the same. Yes, you can find a cheaper photographer, but there is far more that matters than cost…
I myself would want a photographer who cared as much as I did about my FAMILY. I think it would be very sad to end up with one who cared more about the money he could make than about my family MEMORIES and what is precious to me.
Luda and I feel blessed to become a family friend of most every family we photograph. I even had one precious lady who totally surprised me with a Swarovski Crystal Camera (very rare) as a gift to express to us that she loved the photographs I'd created for her so very much. You see, I didn't get into photography to get rich. Believe me, there are better (and easier) ways to make a fast buck. But photography was all I've ever really wanted to do, and capturing the relationships and personalities of children is one of my favorite aspects of photography.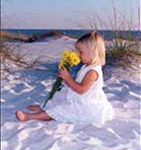 "We just love our gorgeous family portrait. Tim captured some very precious moments and the sparkle of our little girl, Riley."
-Brea Bolton, Panama City, FL
I CHOSE family photography as my profession when I finally realized that all the money in the world would mean nothing to me if I was not making a difference. I consider myself a "Giver of Memories" and it is an awesome thing to do because they are really priceless – especially those of childhood.
I didn't become a photographer because I just liked to take pictures. Don't get me wrong, I do like the "art" of photography, but that's NOT the reason I first picked up a camera.
I love to create something totally unique – a masterpiece – that brings tears to someone's eyes and as well as a smile. To me, photography became my expression of art. Instead of a brush and oils, I paint with light on a canvas of darkness. I also love the absolute beauty of God's creations. One of my favorite places to be is exploring with my camera in some national park or adventurous spot few have traveled by.
I love to experience new things of beauty and create images that will take your breath away. That is my joy to make someone happy.
TIME – we truly never have enough, and we would give anything for it – but it cannot be bought. With my photography, I capture special moments in our lives that we wish we could live forever. These same photographs then become works of art that we display in our homes for all to see and share and marvel at.
I Urge You Not To Decide On A Photographer For Your Child Until We Chat. Many Questions Should Be Asked Before You Decide…
We do not charge for this and you can be assured it will make all the difference in the world about what your portraits will mean to you. Our studio number is: (850) 763-5795. I am always delighted to get your call.
Please don't be concerned as I will never attempt to "sell you". I'm very busy, and I simply do not need to pressure anyone to work with me. Instead we'll just chat and help you discover what you really want in your portraits, and how great they can be.
Should you desire for me to create your portraits – fantastic. If not, it's no problem.
As you review this site, You'll Get To Know Parents Whose Lives Were Enriched By Forever Memories They Found In Their Precious Child's Portraits…
— And You Will Find There Were Lots Of Things They Didn't Know As They First Sought A Photographer…
As a parent, when you began your search you were probably thinking about department store studios with cute props and painted backgrounds. Or maybe you "toyed" with the idea of a relative – You know, the one bragging about the all new digital camera which even makes a cup of coffee! Perhaps in whatever setting you imagined, you saw your child sitting and being nervous, if not frightened, of what was to come…
…yet, something happened that inspired you to check out this site. Perhaps you saw something you liked and desired beyond your first vision, or perhaps you just considered how very important that child is to you – whatever the reason, I assure you that you have made a great decision.
There are 7 Things you MUST HAVE in a Child's Photographer – SECRETS Almost Nobody Knows:
Congratulations on browsing this far! You are doubtless a parent who truly does care about your child's portrait. However, there are some SECRETS you MUST know. By the time you discover what's ahead, you will indeed know all you need in order to have that most priceless portrait of which you've dreamed – one that will always bring you great joy.
I urge you to discover the 7 VITAL things you need to have in a photographer that you will trust with your child's portrait. Be sure the one you choose has
them all, and you will have the portrait you seek. It will not be a lot of work for you once you are armed with this information, and it is worth it for your child. Also, remember that along with this portrait comes your child's forever memory of an experience with their photographer that you subjected them to – let's hope it is not traumatic.
So, here we go!
SECRET ONE

:

Let's make friends BEFORE we do the photography – In other words, your child will be able to meet me and get to know me prior to working together

I believe that the photography session should be fun and a great experience for your child, so what better way than to make a friend ahead of time. On the day of the session us friends will just have a great time together and that way capture some real moments and expressions.

There is NO CHARGE for our roughly 12 minute pre-meeting, and I assure you it will do wonders in bringing you that perfect image your heart desires.

Should you not select me for your photographer, please BE CERTAIN your photographer choice will meet your child before the session and NOT CHARGE. The difference this makes is priceless!
SECRET TWO

:

An Absolute GUARANTEE of Delight.

You will almost NEVER find this with a photographer, but it is imperative! Would you want to pay for a photograph that looked fake or unnatural? Don't you want to love your child in the image? I think so and that is the reason I'm the only photographer here offering you this:
BELIEVE IT OR NOT

–

This Is Above And Beyond Any Guarantee:

If You Are Not Totally Delighted With How Your Child Looks, And The Images Don't Bring A Tear Of Joy – Then You Don't Pay For Them.

It is our personal promise to you since we won't be happy if you aren't. To my knowledge there's no other photographer offering this. I feel that the portraits will have little meaning unless they convey your child's personality, and we want you to be happy.

IF FOR ANY REASON the images I create for you of your child do not thrill you, you will not have to pay for them.

Obviously, I'm confident that you will love what I create far more than you thought. Please don't mistake this as being arrogant, I just believe that I have the ability to capture your child's true emotions like no other and I will not be happy unless you are delighted. This is truly my passion in life.

In Summary, This Is My Incredible DOUBLE GUARANTEE:

In the event you are not DELIGHTED for any reason, I will do two things for you:

FIRST – I will happily photograph your child a second time to perfect anything you were not pleased with.

SECOND – IF you are still not thrilled and feel I have not created a portrait you will treasure, then we will refund your creation fee. We will not ask you to pay for something you don't love!

Should you not select me for your photographer, please BE CERTAIN your photographer choice will offer you this guarantee. AS a professional they should take away this risk from you.
SECRET THREE

:

Let's Do This ON LOCATION instead of in a scary and meaningless studio!

This step is truly vital in so many ways. Among those is making your child comfortable so we can capture that perfect expression we 've been talking about.

Guess where a child is the most comfortable – well, AROUND HOME OR A PLACE THEY LOVE TO BE! If you were your child would you prefer to get dressed up and go somewhere unfamiliar and scary, or would you love it if the photographer came to you where you were playing and having fun? Where do you think we will have the most real expressions?

There is nothing exciting about a portrait on a studio background that looks like thousands of other kids. But imagine the joy in being where you child loves and doing some of those favorite things!

I will be happy to photograph your child at our studio if you prefer, and we do have a very nice studio. But I will come to your home, or take you and your child to location in and around Panama City perfect for your portrait. I really do not mind going on location even though it takes more work on my part – I ENCOURAGE it! After over 30 years of photographing children, I know that these kinds of portraits will be the photographs that parents love most.

Should you not select me for your photographer, please BE CERTAIN your photographer choice will create images at a location of your choice.
SECRET FOUR

:

The Elephant and Calla – Games To Bring Fun To Your Child So
They Will Look Fantastic!

Whether in the studio or on location, there is no other photographer who has the elephant, and Calla! You see, I have an incredible INVISIBLE elephant living in my camera! Really – and the kids love him. He is THRILLED to make some noise and bring a smile whenever he is needed. Your child's eyes will light up when he comes around, or the invisible duck and kitty. IF that doesn't bring a smile, we bring in our all real "dog with a blog", the famous Calla – sure to bring joy! When I see that light in their eyes, that's when I photograph them as I know this is what will bring a tear to your own eyes.

So between us, there's really no invisible elephant. But, the psychology is how we bring out the personality of your child and have a great time doing it! Whatever the game, be sure to ask anyone you consider just how they help the kids have fun. This is FAR more important than the latest and greatest digital camera and fancy lens they offer!

Should you not select me for your photographer, please BE CERTAIN your photographer choice offers a game or something fun so your child will have a great time!
CAUTION: Incredible Myth Concerning The Portrait Of
Your Child:
"We have plenty of time, so no hurry to make the portrait."
Before concluding the 7 SECRETS, let's consider that statement. We all seem to believe we have endless time in life to have such a portrait created.
Guess what – if you don't get out the cell phone and call now – things will come up. Tomorrow goes by, then a week, and months. How much will that precious child change in the time that goes so quickly by?
TIME never stops for us…
The first word and then the first step. Soon it's the bike ride, and then the car. School becomes college and before you know it your child has their own family! Where did all the time go?
I always think of a favorite song by ABBA called "Slipping Through My Fingers" – Some of the words reflect of how time slips so quickly by from birth to "school bag in hand she leaves home in the early morning…" Then before you know it they are gone.
I URGE YOU – Don't let this chance slip through your fingers. These are precious times. You deserve this.
WHAT YOU SHOULD DO RIGHT NOW!
Pick up the phone, and call my studio. CLICK HERE for the number.
No matter what the time is, call NOW. If after hours or I don't answer, our service will take your message and I will call to chat with you at a time you specify. Remember, I will never pressure you. We'll just chat about your family, myself, and things you need to know – and there is NO CHARGE (that's a better deal than my accountant!). The call may not be long, but it will be extremely important because if you have read this far I KNOW your portrait is extremely important to you.
SECRET FIVE:
Why the outfits your child wears makes a huge difference!
Prior to your portrait, we will work together to select the right outfits for your child so that you will absolutely love the final portrait!
Many photographers will tell you clothes don't make a difference with kids, or just let them wear their favorite shirt –still others would have you dress them up like they're going to meet the president, or wear some fairytale character costume. It can all be very confusing – So what is right?
Trust me on this, the right outfit will make the difference in you loving the portrait and embracing your child, or just thinking it is a cute or clever snapshot. Let's face it, there are times when you want the superhero or fairytale child as a cute memory, but not to capture the essence of your child's personality and character in a way that will touch your heart each time you gaze upon it.
Consider that the "most comfortable shirt" that photographer insisted you bring might just be one with giant red stripes. What will you then see when you look at your portrait? We really want to see the wondrous face of your child first, and the outfit not so much. Simple plain outfits which do reflect the personality of your child are always the best, and we will help you select them when we meet in advance. Remember, we want every part of your portrait to be perfect and in harmony so that we see your child in the way you truly desire.
Should you not select me for your photographer, please BE CERTAIN your photographer choice offers a consultation prior to the photography in which you pick the perfect outfits!
SECRET SIX:
Bringing Comfort To Your Child With A Beloved Toy Or Pet.
This is an awesome secret with two pluses – Comfort and Personal Sentiment!
Kids love things they love! In other words, their favorite toys or stuffed animals or the family pet will bring them a big smile, along with lots of joy and comfort. In addition, having something very personal in the portrait brings another level of warmth, personality, and uniqueness to the final image. How about that precious blanket Grandma made with love, or that stuffed animal sleeping by their head every night? These are simple things that mean a lot.
You can probably imagine what wonderful things that can happen your child is accompanied by this special friend or toy. Sometimes children just slip into their own little world and these can be some of the most precious portraits you will see.
Should you not select me for your photographer, please BE CERTAIN your photographer choice is open to allowing your child's favorite thing into the portraits!
SECRET SEVEN:
Your Photographer NEEDS To Give At Least AN HOUR To Your Child!!
This one is so important. A vast majority of photographers push through as many sessions as they possibly can each day as it is mostly about the money. This practice gives ONLY 13 MINUTES from the average photographer to create such an important portrait of your child! That's crazy!
In my humble opinion, a fine portrait of your child demands more time than that. I have found it to be so true in life that fine things take time and simply cannot be rushed. Fine children's photography is like a great meal in a fine restaurant: It CAN'T be rushed. A true child photographer should be willing to put forth the needed time and have the patience to create a truly fine portrait, and you just can't do that when the next client is breathing down your neck. While it may not always be needed it is still vital to allow at least an hour or more. Your precious memories cannot be rushed – be sure your photographer is totally responsible to you and your child.
Should you not select me for your photographer, please BE CERTAIN your photographer choice allows at the minimum ONE HOUR so as to not rush your child!
Here Is Why This Portrait Of Your Child Will Become Your Most Prized Treasure:
Ask yourself – Do you right now have an artistic masterpiece portrait of your child which means everything to you and truly touches your heart? By that I don't mean a cute snapshot from a family trip, but rather a really wonderful and touching image of your child created by a true artist that perfectly captures the special little things you love in your child's expression and personality. Something you would really be proud to display in your home for a lifetime because it says and means so much. Do you have this?
If you cannot say "yes" the great news is that it is not too late and NOW is the time! This time right now can be the moment you will cherish for the rest of your life and share with all those you love!
There is no need to make such a huge decision now. All I ask is that you take just a step toward having and capturing the most precious image of your child TODAY.
Simply Call And We'll Chat. ANYTIME. I know how much this means and I will call you back. By the way, should this be a surprise gift, just let me know not to spoil it!
One more time just CLICK HERE and you'll have the number to my studio.
That Treasured Lifetime Portrait Of Your Special Child Awaits…
…So make that call and bring yourself a lifetime of joy. I am waiting to hear from you.
"We are so happy we chose you Tim! Since we only had one morning before fishing in the billfish tournament, we were skeptical about whether you could create this perfect family portrait we had always desired, but your more than did it. We were thrilled that you came to us, and helped find the ideal place for our portrait in our family boat where we love to be together. You helped us all feel comfortable and we truly now have a family work of art on our wall. Thanks Tim!"
-P.D. Landreth, Panama City Beach, FL
Don't Make The Decision As To Who Will Photograph Your Family Until You Chat With Me. There Are Things You'll Want To Ask The Photographers…
There's no cost, and no obligation to just chat with me, and it will make the whole difference as to how great your portraits will look. Simply CLICK HERE to find out how to contact me by phone, just to chat.
Don't worry. I'm not going to try to "sell you" on working with me. I'm already very busy, and I don't need to pressure anyone to work with me as a photographer. I'll just talk to you about your portraits, and help you discover what your photographs could be like.
If you decide to have me create your portraits – great. If not, no problem 
#3 Myth, Mistake Or Misconception:
"Family Portraits Have To Be Created In A Professional Studio – And They Have To Look Boring."
If you're like most people, when you think of a PROFESSIONAL family portrait, you think of all of you gathered in front of a "painted background" in a photography studio, posed unnaturally, and all saying "cheese" as the photographer snaps the picture. Now, is that something any family will cherish for a lifetime? I think not. Yes, it may capture the whole family together, but it will never capture your family relationships – your family's love.
Picture instead: All of you gathered in your favorite room in your home. Or outside on the new deck you just had built. Or in your backyard by the palm trees that give your yard so much character. All of you are dressed in clothes the photographer helped you choose – clothing that conveys your individual personalities, but still looks great together.
Well, that's what makes all the difference, and that's what I will do for you.
And This is SO Important: All Of You Feel Totally Comfortable In Front Of The Camera!
Do you know ANYONE who feels totally comfortable in front of a camera? I'll bet you don't. I don't. Nearly everyone I've ever met tells me the same thing: "I never look natural in pictures." The last thing you want is a photograph where you or your family members have that fake "posed" look on your face.
That's why it's so important that you feel very natural and comfortable with your photographer. Just think of how great your family would look if your best friend was creating the photograph. They would all look so happy and natural! I take pride in developing very close relationships with all my clients, and their entire family.
Plus, I understand the "psychology" of photography. Learning the technical aspects – what lenses to use, what lighting looks best, how clothing adds and subtracts weight on film – all of those things were only the tip of the iceberg. Without being able to make each and every one of your family members look and feel comfortable (and natural) on film, all those technical things would amount to nothing.
You'll NEVER hear me utter the words "say cheese."
That's a surefire way of getting expressions that look totally fake and unnatural. No – a great photographer knows that, in order to get a great expression from a subject, you need to get to know that subject a bit – to know what will make them smile naturally. That's what I do, and I love it! I will get to know your whole family so well, and they will feel so comfortable with me, that their expressions will be perfect every time.
#4 Myth, Mistake Or Misconception:
"There's No One To Help Me Make Choices About Clothing, Hair, Makeup, Location, etc…"
Okay, normally you would be right thinking that. However, I pride myself in being different. I'm going to help you with all of those things, WHETHER I'M YOUR PHOTOGRAPHER OR NOT!
My Years Of Experience Photographing Families – Yours FREE – Without Any Obligation.
Okay, by now you are probably considering having a family portrait created. You may even be considering choosing me as your photographer – but I don't want you to make that decision just yet.
No matter who creates your photographs for you, you will need to make some decisions. What clothing should your family wear? Where should this photograph be created? How heavy should the makeup be on the ladies in the photograph? There are a number of things to think about, and I will walk you through all of them personally.
WHAT SHOULD YOU DO RIGHT THIS SECOND? (and why?)
Pick up the phone, and call my studio. CLICK HERE for the number.
Even if it's after business hours, still call right now. I've got an answering machine that is just waiting to cheerfully take your message, and I'll personally call you back so we can chat. Just let me know when is a good time to call you back. Don't worry, I'm not going to try to "pressure" you at all into working with me. Plus, there's no cost at all for us just to chat.
When you call, we'll chat briefly about the things you need to know. I'll tell you a bit about me. I'll answer all your questions about how to prepare for a family portrait. It won't be a long call, but it will be one of the most important calls you make.
#5 Myth, Mistake Or Misconception:
"There's No Rush To Have A Family Portrait Created Right Now."
You know how things are. If you don't pick up the phone right now, and at least call me to chat about your family portrait, you will probably get swamped with other things, and forget all about it. Then, before you know it, a year – two years – five years have gone by. How different will your family be then?
You see, time is ticking…. and it's never going to stop.
First, Your Child Takes His or Her First Step. Next, Learns To Ride A Bike. Later, Gets A Driver's Licence. Graduates From High School. Gets Married. Starts A Family Of His or Her Own.
These are precious times, and although things will change, this moment never has to slip from your fingers.
Don't put this off. You know how life is. We put things off, and before we know it, everything has changed. If your life is half as crazy as mine is, year after year you find yourself frustrated at the things you wanted to do, and never got done. A family portrait is something you deserve.
"A True Story – How A Man's Love For His Family Created A Lasting Memory That Will NEVER Be Forgotten…"
CLICK HERE to read this TRUE story – it still brings a tear to my eye, and it truly shows how much your portraits could mean to you…
Life is so terribly short. But, at the same time, life is such a wonderful gift. And the memories we keep of these moments with our family will last forever.
Why Your Family Portrait Will Become More Valuable To You Than Anything Else In Your Home:
Do you have a photograph of your family that, if you were running from your burning home, would be the one thing you save (other than your family members, of course) on the way out?
Now, I'm not talking about a "snapshot" that was taken during a family outing on the Fourth Of July. I'm talking about a wonderful photograph, created by a professional photographer, that not only captures your family's true bonds and relationships, but also does so in a way that you'd be proud to display openly in your home for the rest of your life.
It's Not Too Late. This Moment, Right Now, Can Be Held Onto For The Rest Of Your Life – For You To Share With Family And Friends.
You don't have to make a big decision right now. You don't have to choose your photographer – you don't even have to decide that now is the time for your family portrait. Just take one small step toward holding onto your family's happiest moments RIGHT NOW.
Once again, CLICK HERE for my studio number, and you can call any time. If I don't answer, just leave your name and number at the beep, and I'll call you back. If you're thinking of this family photograph as a GIFT FOR SOMEONE, let me know, so when I call back, I only ask for you, and don't spoil the surprise!
The Perfect Family Portrait Is Only One Phone Call Away…
Make the call now. It will be a call you will be glad you made for the rest of your life. I look forward to hearing from you.
Sincerely,
Tim Allen
Photographer
P.S. – There's no cost, and no obligation for this chat. Your family portraits shouldn't be trusted to any photographer who doesn't realize what a responsibility it is to make sure these portraits are perfect. These are your memories – don't trust them to just anyone. You've nothing to lose, and so many great memories to gain. Call my studio now – no cost, no obligation – CLICK HERE TO CALL ME (no cost, no obligation)!
P.P.S. – STILL NOT READY TO CALL? That's okay. I can still give you some more secrets FOR FREE in the mail. If you'd like more information about family photography rushed to your mailbox, simply CLICK HERE to have more secrets rushed to you.